Q&A – Questions and answers
For a better experience, leave the deodorant a few seconds under the armpit.
To avoid irritation, apply a simple layer.
Store under 25°c. Do not force the mechanism.
Enough for 4-8 months with regular use.
 

Wash your hands before handling.
If necessary, cool the refill. Take your empty Kali déodorant tube *leaving the plastic tray at the top*.
Keep the bag on the top of the refill and insert the product.
Gently push the deodorant down.
_________________________________
OOOPS !
If, unfortunately, you threw the plastic tray in the trash with the rest of your old deodorant, and your refill is taken in the plastic tube, here's the solution!
Insert a straw around the stem about 4 cm deep (it must be bigger, my stainless straws were not working, I took a plastic straw).
Gently pull on the straw, the deodorant should come out, otherwise put in the refrigerator for a few minutes and try again.
You can now buy a new empty tube from the online store, or from a retailer.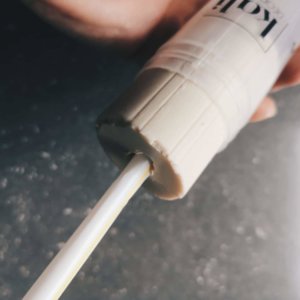 The deodorant causes me redness under my armpits, why?
Bicarbonate neutralizes the bacteria responsible for perspiration-related odours.
It can also be an irritant for some people with more sensitive skin, as its pH is very alkaline.
Directions: Place the deodorant under the armpit, wait for the product to soften a little and apply a single layer without putting pressure on.
Please do not apply 2-3 layers as with your old deodorant. This may irritate your armpits.
If this ever happens despite my recommendation above, stop using it and try the pH harmonie.
The "pH harmonie" vaporizer to the armpits will help heal faster if you have redness.
By creating a barrier on your skin, it will regulate your pH so you can apply your Kali deodorant without any problems.
For armpits that become darker, if there is no irritation, you can exfoliate your skin in the shower.
This is a normal reaction to baking soda, because it is very alkaline (pH 8-9).
You can also try sensitive and very sensitive skin deodorants.
The 1/2 bicarbonate (sensitive skin) and bicarbonate-free version (very sensitive skin) are available in 4 fragrances (cucumber, lavender-patchouli-vanilla, orange-vanilla and green-pear tea).
Can deodorant stain clothing like some commercial deodorants?
I have been using this deodorant since October 2016, and I have never stained clothes.
Sometimes I put too many on, so I had darker circles on my sweaters. Simply soak in lukewarm soapy water or a little "Spray 'n Wash" shot.
If a white deposit forms, it is probably a residue of baking soda.
Simply rub the garment with your hands!
A yellow spot on your white t-shirt?
A little article for you right here: https://www.kalideo.ca/sweating/
/
Here is the list of the basic ingredients in our deodorants.
Vitamin E is added as well as essential oils and/or perfume (without phthalate).
Essential oils are present at less than 1% in the composition of the deodorant.
They are used for perfume and not as a therapeutic product.
To ensure the accuracy of the fragrances of essential oils, the deodorant can be stored 24 months after the date of manufacture.
The deodorant should be used within 12 months of the opening date.
It will take you between 4 and 8 months before you reach the end of your Kali deodorant (78ml) (with use once or twice a day).
Incredible!
Kali deodorant will refund or exchange your product if you are not satisfied.
All you have to do is return it with a copy of the invoice and your contact information.
Kali deodorant
c.p. 27 Bromont
Succ. Bureau chef,
Bromont, Qc J2L 1A9
Your package must be prepaid and have a tracking number.
Please note that the product must have been purchased online from our store
________
If the product has been damaged in the transport or has not been opened or used (purchase less than 15 days ago).
Please contact us for a refund or exchange. info@kalideo.ca